St. Joseph Altar
This altar was designed and constructed to match the existing 125 year old back altar and altar rail. We used quarter sawn white oak and white Carrara marble from Italy. Traditional carved arches and antiqued finish complete the transformation

St. James Altar
This altar is made of two types of travertine marble, with carved raised arches and keystones.
Blessed Sacrament Altar
This altar is made of mahogany with black granite mensa and leg accents. The mahogany edging around the mensa perimeter is hand carved to mimic the rough wood of the cross.
Our Lady Queen of Angels Altar
This altar is made of solid Spanish white statuary marble and features carved arches along the perimeter of the mensa. Design by Robert Habiger
Redeemer Lutheran Altar
Redeemer Lutheran Church in Salt Lake City, Utah received a 350 year old carving of the Last Supper out of a cypress log. We created a grotto altar to highlight the carving out of rough hewn granite, walnut and cherry.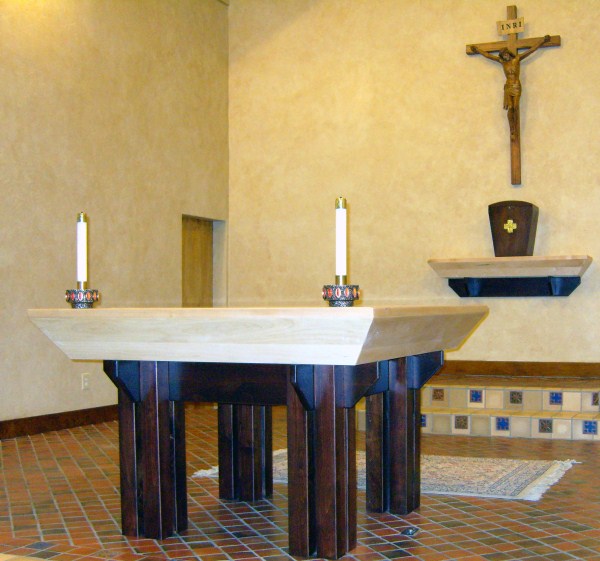 St. Patrick Altar
This contemporary altar has angled mensa sides that lifts the eye upwards to the action taking place on top of it. Mensa is made of solid birdseye maple with walnut legs.
Our Lady of the Snows Altar
This contemporary altar is in a modified Greek cross design. Mensa is Costa Esmeralda granite, often used in jewelry, on cherry base and legs. Design by McLaughlin Architects
Pius X Altar
This church is located in Moab, Utah, which is surrounded by red rock cliffs and canyons. The altar features the same red rock on the front and a granite mensa with a swirling sand pattern.
Hospitality House Chapel Altar
This small altar rolls out into a chapel at a priests' retreat house in Park City, Utah.
St. Peter Altar
This oversized altar is 7 feet long by 5 feet wide. Costa Esmeralda granite mensa with gold leaf sits on four massive mahogany and granite legs.
St. Therese Altar 2
This altar was made for the second renovation of St. Therese Catholic Church in Midvale, Utah out of maple, cherry and Costa Esmeralda granite. Modified Greek cross mensa shape.
St. Catherine Altar
This altar was created for St. Catherine Newman Center at the University of Utah in Salt Lake City. Rift sawn red oak with inlaid makore Greek cross design. Design by Brixen & Alexander
St. John Episcopal Retable
This retable sits behind a contemporary altar at St. John's in Roseville, California. Walnut with faux cream marble top and front panel.
San Andres Altar
This altar is made of solid cherry with black granite mensa. This Catholic church was originally a Mormon meeting house that was purchased and converted.
Shepherd of the Mountains Lutheran Altar
This altar has sweeping arched legs that make it look like the mensa is floating on air. Made of quilted cherry and birdseye maple.

St. Lawrence Altar
This is the first altar Tekton Woodworks made, way back in 1995. St. Lawrence is a renovated Mormon meeting house and the mensa of this altar was reworked from the original altar of the Cathedral of the Madeline in Salt Lake City.
St. Therese Chapel Altar
St. Therese's community is mostly Hispanic, so this small chapel was renovated to look like a little Mexican church, with dark wood with brightly painted accents.

St. Thomas Altar
This modern altar is made of mahogany with black and bush hammered grey granite. Design by Ken Griesmer Studios
St. Therese Altar
This altar was designed for the first renovation of St. Therese Catholic Church in Midvale, Utah. Unfortunately, the beautiful curves of this altar were destroyed in a fire one year after it was dedicated.

St. James Episcopal Altar
Altar of walnut with carved elements.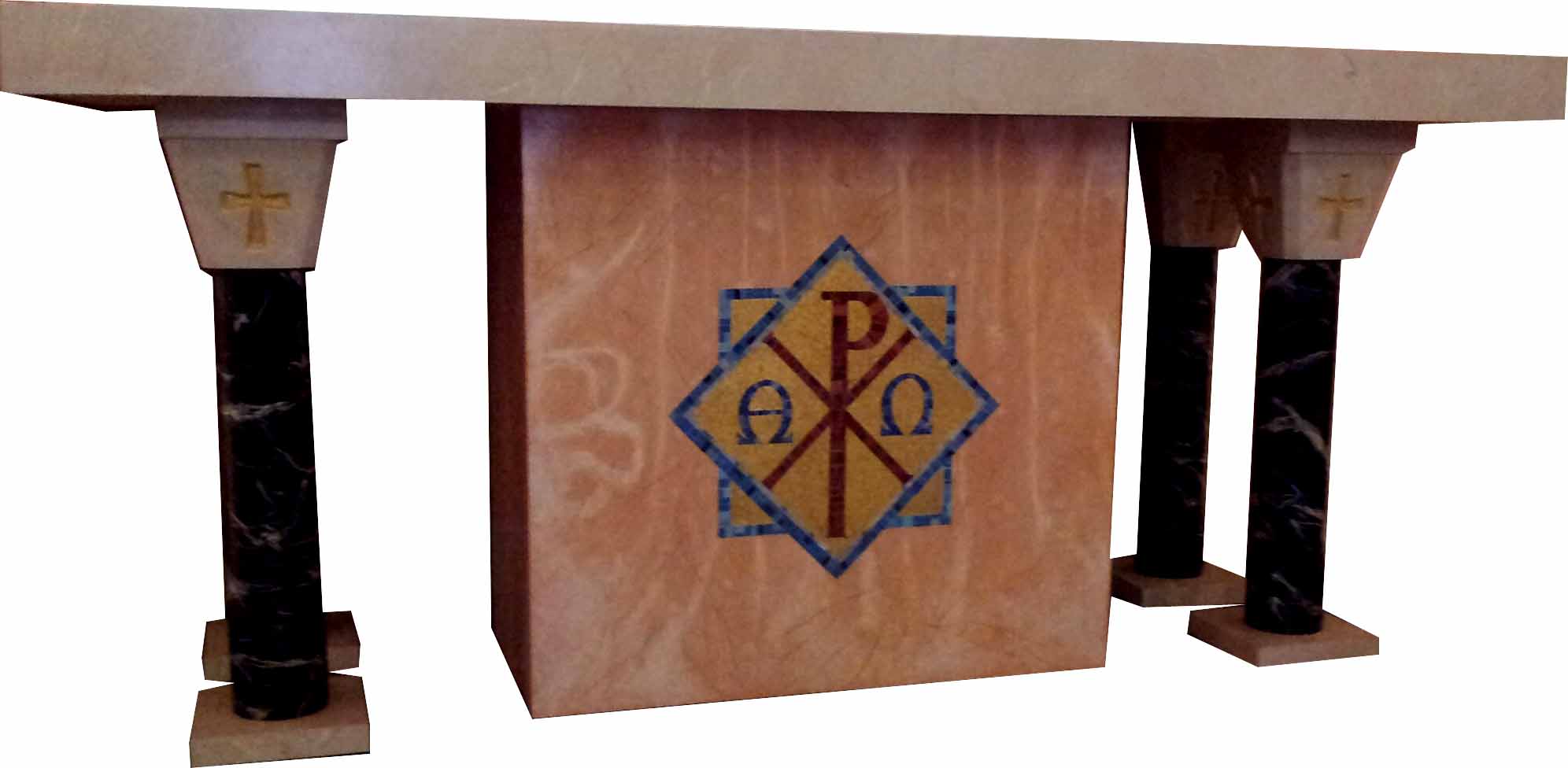 Altar, St. John the Evangelist
This altar looks like marble, but is really wood faux painted to match the existing stonework of this 100 year-old church in San Diego.
Our Lady of Malibu
Solid walnut with rough hewn travertine mensa
St. Joseph Monticello Altar
Altar of cherry with rough hewn travertine mensa and panels.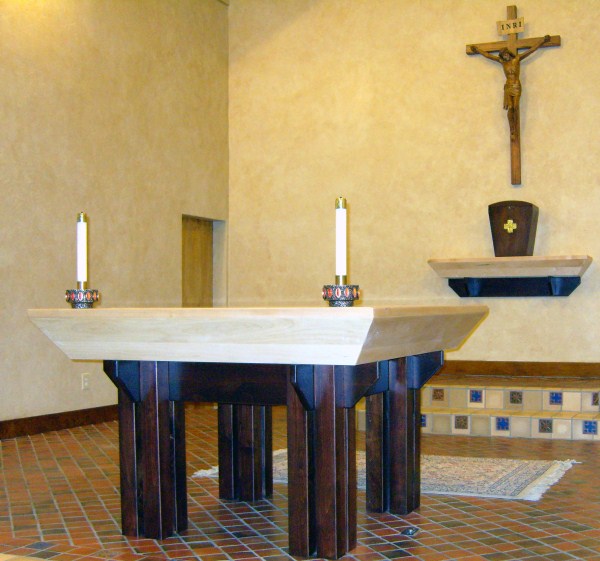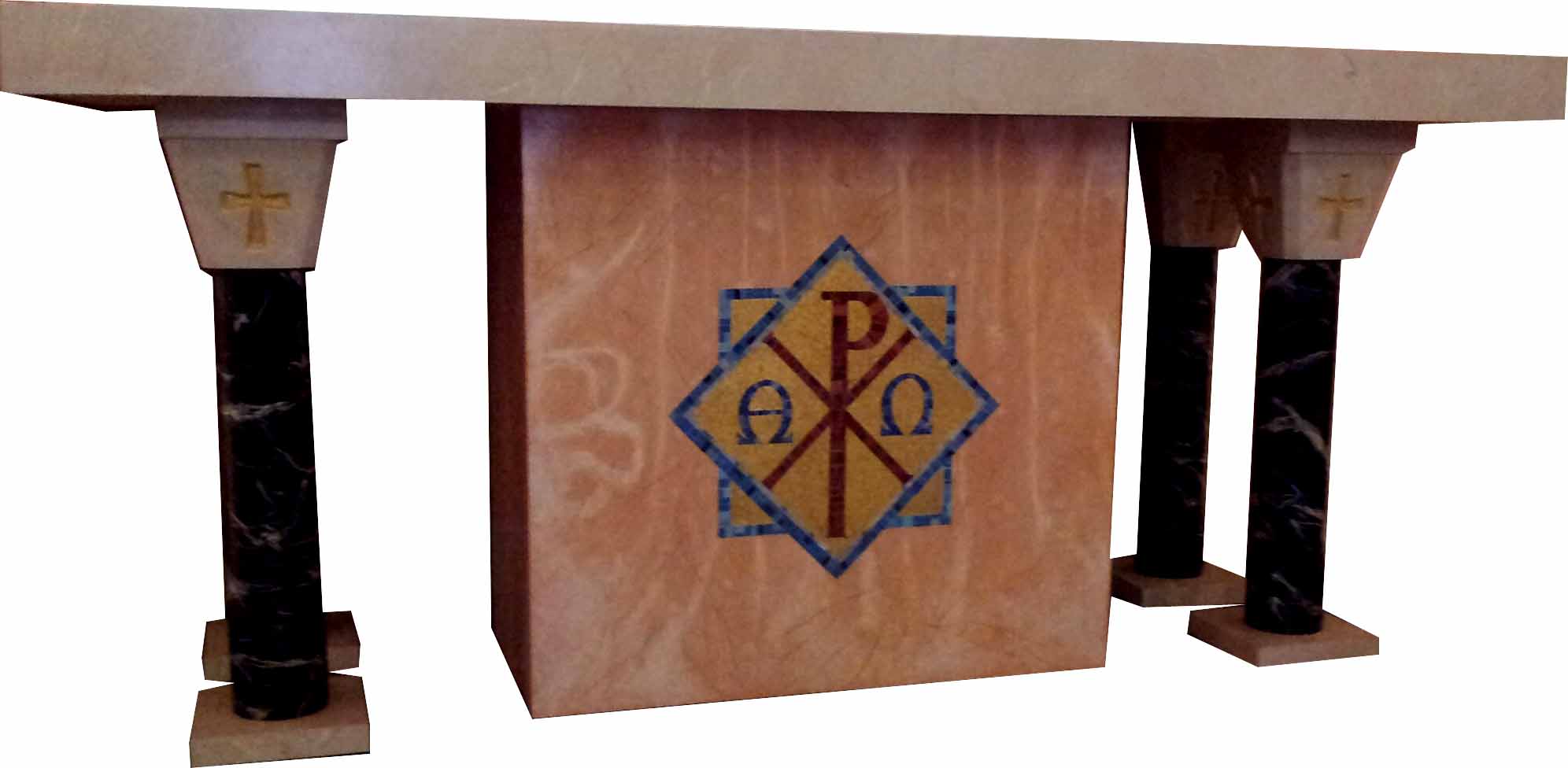 The main focal point in a liturgical church should be the altar. The altar symbolizes Jesus and his sacrifice on the cross. Altar designs range from traditional to contemporary and everything in between. We like to use a mixture of materials in our designs, usually wood and stone complementing each other. We like to use stone for our mensas, symbolizing Jesus, the stone rejected by the builders that has become the corner stone. For tight budgets, faux finishing is the answer.